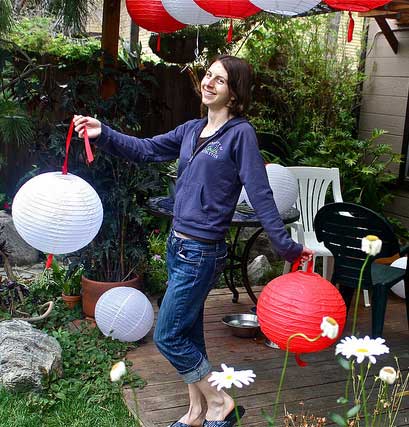 When I first arrived at the Hazy Moon early last July, the summer training period had already been going on for 60 days; the samadhi hung thick in the air.  From that moment through the end of ango, the word "luxury" kept coming to mind.  It seemed luxurious to be able to stay at the Hazy Moon for the better part of a month, when I'd never been able to stay for more than a week before!  It seemed almost decadent to arrive, as someone put it, with the feast already prepared. All I had to do was sit down (for six hours a day) and eat it!
With the luxury of time, the ango routine started to feel natural.  I began waking up before my alarm rang at 5am (and sometimes earlier, much to my amazement).  Eventually I didn't need to check the schedule to know when we were sitting, walking, having service, eating, or working—I just did what was natural for that time of day.
At the same time, there were many things that did not come naturally to me, and these were the best learning experiences.  For example, after learning how to ring a bell called the inkin during service, I couldn't figure out why I was producing such a strange "ching-ching" until another sangha member pointed out that I was gripping the instrument so tightly that I was muffling the sound.  There it was: a literal example of what clinging was doing in my life.  At the same time, I realized how in everyday life, suffering often felt natural and normal to me.  Only during the long haul of ango did I begin to see how I was addicted to planning for the future—perhaps because the long periods of silence and the gentle regimen of the schedule finally allowed me the space to notice.
Luxury also means being taken care of, and for that we had the shuso (head monk).  Shindo, always one to nurture us with gourmet meals and a sympathetic ear, was now in charge of the training period.  Of course, he was also in charge of practicing with his koan in the most dedicated way.  By the time I arrived, Shindo was already in deep.  I felt the power of his samadhi draw me in.  Several of us sat extra time with him, late at night or on weekend breaks.  At the end of ango, Shindo became an "official" Zen priest at the shuso hossen ceremony. I was overwhelmed by how proud I felt of him, and how grateful I was for what his practice brought to the sangha.
Another aspect of luxury is experiencing something extraordinary.  What comes to mind is Sotetsogen's talk on finding the extraordinary in the ordinary things of everyday life.  During ango I would bliss out on the beauty of the neighbors' bougainvillea flowers or the sound of spoons scraping the oryoki bowls.  Now I find these extraordinary-within-the-ordinary experiences cropping up in my everyday life outside of the zendo, always accompanied by a sense of awe and gratitude.
Rather than encouraging a sense of complacency, the luxury of ango at the Hazy Moon has given me a sense of how urgent it is to wake up.  It really hit me this time when Roshi told us that until we wake up, we will always be doing some harm.  I also saw how the insights I had during ango have radically transformed my life, with fear and suffering failing to appear where they once would. Instead I'm enjoying feelings of joy, love and freedom.
If just waking up a little bit can help me that much, then I'm sold on the idea of working to wake up a lot more. So, in short, I'll be going back to the Hazy Moon as soon as I can!
P.S. Here's a poem that I think captures the extraordinariness of the ordinary:

Aimless Love
This morning as I walked along the lakeshore,
I fell in love with a wren
and later in the day with a mouse
the cat had dropped under the dining room table.
In the shadows of an autumn evening,
I fell for a seamstress
still at her machine in the tailor's window,
and later for a bowl of broth,
steam rising like smoke from a naval battle.
This is the best kind of love, I thought,
without recompense, without gifts,
or unkind words, without suspicion,
or silence on the telephone.
The love of the chestnut,
the jazz cap and one hand on the wheel.
No lust, no slam of the door –
the love of the miniature orange tree,
the clean white shirt, the hot evening shower,
the highway that cuts across Florida.
No waiting, no huffiness, or rancor –
just a twinge every now and then
for the wren who had built her nest
on a low branch overhanging the water
and for the dead mouse,
still dressed in its light brown suit.
But my heart is always propped up
in a field on its tripod,
ready for the next arrow.
After I carried the mouse by the tail
to a pile of leaves in the woods,
I found myself standing at the bathroom sink
gazing down affectionately at the soap,
so patient and soluble,
so at home in its pale green soap dish.
I could feel myself falling again
as I felt its turning in my wet hands
and caught the scent of lavender and stone.
~ Billy Collins ~
(Nine Horses)