An interview with G.E. So Tetsugen Stinson, Hazy Moon sangha member and Grammy winning recording artist
Hazy Moon: Can you say a bit about your religious background? Where did you grow up, and what was your family's religious culture like? Was there a connection between something (if anything) that you found valuable in your spiritual heritage and what you wanted to experience / express through your music?
G.E. So Tetsugen Stinson: Nothing in my family background or early life would ever lead anyone to predict that I would become a Zen Buddhist. My family came from a fundamentalist Christian background in Oklahoma and Missouri. My grandfather was a minister and my mother played music in church. Some of my aunts, uncles and cousins were also gospel musicians and evangelical preachers. My father was a railroad worker but at one time he had considered entering a seminary to study for the ministry.
From an early age, I was exposed to a volatile mixture of uplifting music and fire-and-brimstone sermons, with much weeping and rejoicing in church. For a young boy and teenager, it was intimidating and fascinating at the same time. Looking back on it now, it seems clear to me that my interest in music began in those first experiences in church.
I was very moved by the music and found myself often overwhelmed by the power of those songs. But that feeling would often leave me whenever the minister began to preach. I wasn't sure what bothered me about the sermons but by the time I was a freshman in high school I had begun reading about atheism. Perhaps it was just an attempt to rebel against the religion of my parents. But there was something that didn't ring true for me and there seemed to be a great deal of fear involved in being a Christian. When I heard the music, however, something else happened inside of me which was hard to explain.
I remember sitting in a church in Chicago Heights, Illinois and listening to my Aunt Margie singing "His Eye Is on the Sparrow." Everyone in the church was weeping and crying "Hallelujah!" I know I was also very moved because I have a vivid memory of it. Reflecting back, I can see that it was a lesson in the power of music that was pivotal for me. It would be hard to say how I felt about it then because I was so young, but it was emotionally powerful and very moving. Whatever that experience was, a seed was planted in those moments. I had played my mother's piano in our house, but after moving to Chicago and hearing the music of Bo Diddley, Muddy Waters, Howling Wolf and others, I asked my mother to buy me a guitar. Against my father's wishes, she agreed. I guess I was lucky she was a musician. I'm convinced that whatever it was inside me that was moved by the music in that church was searching for a way to express itself. That's when my life as a musician began.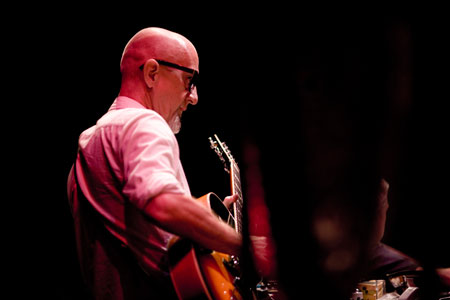 HM: You've described your time with Shadowfax as both the apex and the nadir of your earlier career as an artist. Can you say a bit about those highs and lows? What do you take from that experience?
GES: In order to understand how powerful the experience of Shadowfax was for me, it's important to know some of the history. We started the band in 1974 as a means of exploring more adventurous forms of music and improvisation. All of the members of the band came from modest backgrounds. We were basically blues-rock musicians who had developed an interest in jazz and improvisation. We were inspired to experiment with more challenging aspects of music by listening to other great musicians like Miles Davis, Ornette Coleman, John Coltrane, Don Cherry, Weather Report and others.
What Shadowfax did which was somewhat unique was to incorporate all of the disparate influences–jazz, rock, folk, blues, classical and world music–into a unified whole. We were not the first band to do this, but we were instrumental in making that approach more accessible and popular. The other aspect of Shadowfax was the fact that we were like a family. We were like brothers to one another. There was a time in my life when I had actually spent more time with the members of band than I had with my own blood brothers. It was bond that was deep and became even deeper as we struggled to be recognized and make a living doing the music we loved.
In 1975 we released our first record: "Watercourse Way," named after an Alan Watts book. For us, after many years of persistence and dedication, we felt the record was an achievement, but according to the record company it did not sell well enough, so they dropped us. As it turned out it did sell well, but they wanted to get rid of us and rigged the statistics. We tenaciously hung on in Chicago, playing in clubs and allowing the music to mature and evolve. The music also became more challenging and avant-garde during that period, which was perhaps our most creative. But eventually it was clear that we were beating our heads against the wall.
Disco had become the dominant form of music, and the free-wheeling music of 70s was falling out of favor with audiences and record companies. Two of the band members decided to move to California and asked me to join them. With little hope of a record contract, I elected to stay in Chicago. I had just remarried and I was still practicing at the Zen Buddhist Temple with Kongo Roshi and did not want to leave.
After several years, one of the members of the band was offered a chance to do a record for an up-and-coming label called Windham Hill. He called and asked if I wanted to reform Shadowfax and do a record. Of course, I jumped at the chance. I was working part-time in an animal hospital, and any opportunity to do music sounded great to me. We did the first record for Windham Hill, which was fairly successful, and we started touring a regular basis. Each year we did another recording, and each recording became more successful as we toured to promote the records. We spent months and months on the road, which in the beginning was like a dream come true. Most musicians have a life-long dream of having a successful band and touring around the country and the world to play that music for their audience. That is exactly what was happening for Shadowfax.
We would eventually tour the U.S. numerous times, also Europe, Japan and South America. Our records were selling well, and we were performing in sold-out venues like Wolf Trap, Carnegie Hall, the Kennedy Center in Washington, D.C., and other well respected concert halls. All was going very well, or so it seemed. For me, there was still a restlessness inside that all of the success couldn't satisfy. The grueling schedule of touring and recording began to take its toll on us, and many of the members began to do drugs and drink excessively. Alcohol was starting to become a problem for me. During that time, Shadowfax would spend almost 8 months of every year on the road. That much time away from home began to undermine our personal relationships as well. Also, that schedule began to erode our creative process. It became harder and harder to work on music when we were touring constantly.
I continued to do zazen whenever and wherever I could, often taking a makeshift altar with me on the road and trying to find some balance and refuge from the insanity of touring. I can recall more than one night coming back to my hotel room after drinking excessively, lighting incense and doing zazen. Another very clear memory for me was being on stage at Red Rocks Amphitheater outside Denver. For me, this was a pivotal moment. We had worked so long and hard to get to this point. We were playing one of the best venues in the U.S. with 9,000 cheering fans. We had been nominated for a Grammy Award. But still something wasn't quite right for me. There I was standing on this stage looking out at thousand of fans giving us a standing ovation and I was thinking to myself, "Why am I not happy? We've finally made it. I should be happy. What's wrong? Something is missing."
For many years, I thought it was about the music–being dissatisfied with what we were creating and having to play it over and over again. There was some truth to that, but it wasn't the whole story. In the midst of all this internal turmoil, Shadowfax won a Grammy Award, the highest honor that the record industry can give to an artist. I should have been very pleased and grateful. I was so uninterested that I didn't even attend the ceremony to receive the award. My life had devolved into a weird parody of a successful L.A. musician. On the night that the other members of Shadowfax were being given the Grammy Award, I was floating in my parents' swimming pool in Florida drinking a glass of Cognac wondering why I was so miserable. Something was very wrong.
My time with Shadowfax finally came to an end. I left the group and went through a period of depression, more excessive drinking and drug use. I continued to do zazen, but I was sinking. I was trying to learn how to create music and improvise again, but I was also struggling with alcohol, drugs and an unhappy marriage. Then one of the original members and my closest friend, Chuck Greenberg, suffered a massive heart attack and died. Shadowfax was gone. My marriage disintegrated. I hit bottom.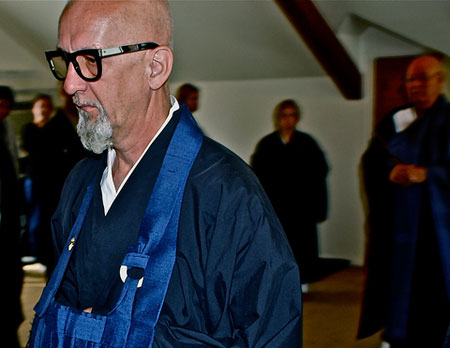 HM: How did you get into Zen? Can you give me a sketch of the teachers you've worked with / lineages you've moved through on your way to the Hazy Moon?
GES: It would be impossible to talk about how I got into Zen without mentioning the cultural atmosphere of the 1960s and 70s. That would be a long discussion that would involve experimentation with altered states of consciousness, but let's just say there was quite a bit bubbling up about exotic spirituality, Asian music and culture. I had read some books that interested me, like Hermann Hesse's Demian, Narcissus and Goldmund and Siddhartha. Since I was an agnostic at that point, these ideas vibrated in a powerful way, and I began searching for something more.
I was familiar with Martin Luther King Jr. and his example of non-violence, which led me to the teachings of Mahatma Gandhi. After reading about Gandhi, I discovered Buddhism and I found it intriguing. Another musician that I respected suggested that I read The Way of Zen by Alan Watts. I remember the feeling I had as I read that book. It probably sounds weird to some folks, but reading Watts' description of Zen and Zen Masters was potent and evocative. I had this strange feeling and I knew that Zen was what I wanted to do. Even though I had no idea how I would accomplish it living in Chicago, Illinois which was very provincial at that time. I devoured every book I could find by Alan Watts and D.T. Suzuki, whom Watts identified as his teacher.
One book of D.T. Suzuki's that really interested me was The Training of a Zen Buddhist Monk. I have no idea why, but I was totally fascinated by the practice and day-to-day lives of Zen Buddhist monks. I discovered several other important books about Zen including, Zen Mind Beginner's Mind by Shunryu Suzuki. But Phillip Kapleau's book Three Pillars of Zen was a pivotal find for me. I began doing zazen on my own, bought a Buddha stature and set up an altar.
During one of these early sessions of zazen, I experienced something profound that I couldn't articulate with words, but it motivated me to devote more time to zazen. Reading Kapleau's accounts of the experiences of ordinary men and women inspired me to investigate practicing with a teacher. Kapleau's descriptions of Yasutani Roshi were a huge inspiration to me. And I grew to love Yasutani through the writings of Kapleau. I eventually wrote a letter to Kapleau, who had founded the Rochester Zen Center.
The center responded and suggested that I come there to attend a sesshin. I didn't have enough money at the time, but I would study the pamphlet they had sent me and fantasize about doing zen retreats. Eventually, I began searching in Chicago for a place to practice with a teacher. I found the Zen Buddhist Temple of Chicago, which was founded by Matsuoka Roshi. Matsuoka had moved to California and left Kongo Roshi, his successor, in charge of the temple. I went to temple and met Kongo Roshi. I wouldn't say we hit it off very well. I was a blunt and angry young man who liked to question authority. While sitting and drinking tea after zazen, I asked Kongo Roshi why he didn't teach koans at his temple. He was clearly annoyed that I would be so arrogant as to challenge his teaching methods. But his response was interesting enough to make me stay.
In spite of being very intimidated by the ornate Japanese altar and the rigid discipline (which included frequent use of the kyosaku), I began attending on a regular basis. Eventually I took Jukai with Kongo Roshi in 1977, and he gave me my Dharma name: So Tetsugen, which he translated as "Iron Eye" or "Iron Vision." I practiced with Kongo Roshi for about five years, but moved away and was unable to attend any longer. Not long after that, I relocated to Los Angeles to resume recording and touring with my band, Shadowfax. During my years of touring, I practiced in whatever way I could but without a teacher.
At the end of my second marriage, I found myself at an all-time low. I had been practicing zazen on my own, but I felt I needed the discipline of working with a teacher again after the years of touring with Shadowfax, which led to an indulgent and destructive lifestyle. I had developed a drinking problem and decided to quit.
After months of struggling with sobriety and finally passing out in a restaurant from stress, I landed in a hospital in New York and resolved to do something to turn my life around. I began searching around for a place to resume formal Zen practice in Los Angeles. I found the Santa Monica Zen Center and gave them a call. Yoshin Sensei answered the phone and I was impressed by his upbeat tone. I went and heard a talk by Yoshin and I liked his no-nonsense, straight-forward approach. I began to practice there on a regular basis. It was very beneficial to do zazen in a disciplined atmosphere again, and my relationship with Yoshin Sensei was helpful to me during that difficult time.
During one of my early sesshins at SMZC, I once again experienced something very profound and found myself in tears as I ate a bowl of oatmeal during oryoki on the last day of sesshin. It's impossible to express what was present in those moments, but the simple explanation is that I was eating oatmeal for the first time in my entire life. I remember looking at the oatmeal with fruit on top and thinking it was perhaps the most beautiful thing I'd ever seen. Needess to say, I was very grateful for how my life had changed. I had many more profound experiences with Yoshin Sensei and I was so grateful for his teaching that I made a request to join The Lotus, the teacher training program. During that time, I attended all the sesshins at SMZC and I discussed the possibility of ordaining with Yoshin. I also did numerous sesshins with Jikkyo Sensei, one of Maezumi Roshi's Dharma Successors and the person who was teaching Yoshin Sensei.
It was also during this period that my present wife, Myotai, began practicing at SMZC. We attended a weekend retreat and workshop with Robert Aitken at Green Gulch in northern California. For me, this was one of the highlights of my life as a Zen practitioner because I had read and been inspired by many of Aitken Roshi's books. He was a very compassionate teacher, and I was grateful to be able to spend that brief time with him and express how much his teaching meant to me. Many years before, while I was living in Chicago, I had taken a trip to Hawaii, and while I was there I visited Koko An, the Zen Center on Oahu that Aitken had founded. It was another pivotal moment for me because Koko An Zen Center had a particularly powerful energy for me. Perhaps it was the fact that I once again was in the presence of Yasutani's lineage. I don't know for sure, but it was a vivid experience indeed.
I become somewhat dissatisfied with other aspects of Yoshin Sensei's teaching, which involved his time as a student with Werner Erhardt in the EST movement. Eventually we parted company and I came to the Hazy Moon Zen Center. I had heard of Hazy Moon from Ron Wagyo George, who I knew through music. When I walked through the door at Hazy Moon shortly before Christmas, the first people I met were Kelly Doman Stevens and Sherri Ento Maclelland, who were warm and welcoming. There was a beatbox with Nat King Cole playing Christmas carols and decorations everywhere, and I thought, "Wow, a cool, relaxed vibe." When I walked into the upstairs zendo, I was struck by how much it reminded me of the zendo at the Zen Buddhist Temple of Chicago. I listened to Nyogen Roshi's talk and was grateful to hear the same simple, direct yet profound teaching that I had read many years before in books about the early Zen masters.
HM: Can you describe your work now? Most savvy practitioners would say that their work doesn't relate to their practice; it is their practice. Could you say a bit about whether / how that plays out for you?
GES: My work as a musician is diverse–from constructing pieces of music using sound samples and software instruments on a computer to doing live performances of improvised music with different musicians in front of live audiences. The key, in terms of practice, is to be totally focused on the task at hand, no matter what it might be. This is quite easy when I'm improvising. That method of creating is extremely conducive to falling into a state of single-minded focus. In fact, I've had several profound experiences in the midst of performances that could be described as "dropping away of body and mind." The best way to articulate this is to say that I came back into myself as the performance was concluding. I had this profound feeling of, "Where was I? I disappeared and now I'm back."
Composing music while sitting at a computer clearly involves more intellectual engagement, but as any Zen student knows, intellectual activity is not the enemy of samadhi. It's our attachment to our thoughts that's the problem. When I'm composing, I simply do the best I can to maintain my focus on the job that's right in front of me. Being present in each moment is the aspiration, no matter whether I'm making music, walking the dog or doing zazen. Although being present is much easier when I'm sitting in zazen.
As cliched as it might sound, music is my practice when I'm doing music. Someone asked me recently why I bother engaging in political discussions and arguing so passionately about certain things. He said, "If samsara can't be changed, then why bother? Or are these discussions part of your personal growth?" My response was, "There is nothing outside of my practice. Buddhism is the only container big enough to hold all of it. Being a great musician won't help me become a more compassionate person. There are many great musicians who are egotistical, angry, selfish, drug-addicted and unhappy. Music doesn't transform the musician unless music becomes a spiritual practice. When that occurs music is practice and practice transforms our lives."
I wouldn't have found Zen practice if it wasn't for music and musicians. It was my first experiences listening to gospel music in church that paved the way for me to be a musician and it also opened the door to my spiritual practice. Perhaps this is also why I have been inspired by the writing of Hazrat Inayat Khan, the great Sufi master and musician from India. He wrote these words: "Divine sound is the cause of all manifestation. The knower of the mystery of sound knows the mystery of the whole universe." If you break down this quotation, you'll see the underlying reality. Science now tells us that at the micro level nothing is static. Matter is not what we think it is. In reality, everything is vibrating. Vibration is sound, sound is music. If we can completely lose ourselves in that vibration that is the flashpoint of being, we will know the sound of one hand clapping. We will know how to stop the sound of the temple bell.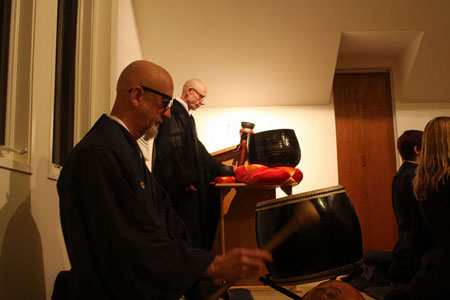 HM: You've amassed a considerable following as a social media commentator on Zen culture specifically and American politics more generally. I can see you in that context as (at various times) a shit disturber, a voice in the wilderness, a deliverer of jeremiads or a source of reasonable counsel. What's in it for you / why do you do what you do / how does it relate to your hopes (or despairs) for the times we live in?
GES: What's in it for me? An interesting question. I first began getting involved in social media as a means of promoting my music and my live performances. Clearly it has evolved well beyond that, but it still serves that function. Where I once sent e-mails to notify folks about a gig, now I simply post it to Facebook. It's easier and seems to work as well, most of the time. Which doesn't mean I have hundreds of people showing to my performances. The truth is, in our society, music–or any art that isn't mainstream, for that matter–doesn't get a lot of attention. That's not a problem for me because I no longer create music to be popular. I create music because I love music. Creating is one of the most satisfying things I can do and I've become fairly adept at it. If someone hears the work and responds in a positive way, that's great. But ultimately I make music because I've been compelled to create music since I was a child.
That doesn't mean that I'm impervious to attention from an audience. I have an ego just like anyone else and I like to be acknowledged for the work I've done. But I've gained some perspective on the relative importance of fame or notoriety. As an example of how important this lesson is, I would cite this anecdote. Recently, a visual artist named Mike Kelley, a man who is well recognized and successful all over the U.S. and Europe, committed suicide at age 58. His pieces had been purchased by every major art gallery and museum in North America, Europe and Japan. His work was about to be included for the seventh time in the upcoming Whitney Biennial and it had been exhibited numerous times in many other prestigious art institutions. After Kelley's death, it was revealed that he had struggled with his success as an artist. He suffered from depression and had gone through the loss of an intimate relationship. Our sangha member, Kim Chishin Russo, posted something about his life and death on Facebook, and I responded with the following comment:
So many artists think that success will fill the hole inside of them. That hole is what the Buddha called "dukkha" or unfullfilment. Fortunately, due to my experience in Shadowfax, I've had enough success to know it will not fill that hole. I've also had the good karma to find Zen practice along the way. I have received standing ovations from 9,000 cheering fans at Red Rocks in Denver and at that very moment I was thinking, "Why am I so unhappy? I thought this was what I wanted?" I have also sat half lotus with aching knees for two months and at the end of it, I knew that no amount of ego gratification would ever satisfy me. And, at that same moment, a bowl of oatmeal could elicit tears of profound gratitude. The Buddha said "We are all facing death. How can we feel pride about anything? We should live our lives as though our hair were on fire."
That sums up my aspiration as a Zen practitioner, musician, social media "commentator and activist." After 35 years of Zen practice, it seems clear to me that there is only one way to transform the world. It's been said many times before but it bears repeating. If we wish to transform the world, we have to transform ourselves first. From there, it ripples out into the world. First with our families, friends, loved ones and sangha. Next, into our neighborhoods and communities and eventually further. As Nyogen Roshi has said on many occasions, "The ripples which emanate from a pebble being thrown into a pond do not stop at the shore. They go beyond. We have no idea how far they may reach." This is also how I see my own aspiration when commenting on political and social issues on Facebook and elsewhere. If you were to ask, what is my primary motivation, it is to remind myself, and anyone who is open to hearing, that selfless compassion is the most essential quality that we can bring to a world of suffering sentient beings.
I may argue vociferously about politics, social issues, so-called Zen scandals and so forth, and many people assume I'm angry when I comment because I can be very blunt and outspoken. I CAN be angry, but most of the time that anger is not self-serving. I rarely have any desire to "win" an argument or berate someone unless they are being a bully. I see myself as someone who speaks for those who do not have a voice in the political process and society in general. Those who do not have lawyers and lobbyists representing their interests: the homeless, children at risk, the elderly who make choices between food and medication, the sick and dying who do not have access to decent medical care, wild creatures and wild places, immigrants, wounded veterans and many others.
I don't comment to corroborate my own ideological agenda. In fact, I don't even have an ideological or political agenda. I have an aspiration to do good in the world. To cause no harm. And to expose those who would take advantage of the weak and vulnerable in order to push their own agenda of greed and self-interest. But my first duty is to wake up. In the awakened state, I can engage in complex, divisive political or spiritual exchanges without losing my balance. From that place, I can identify the ego-driven motivation that permeates many discussions on politics, morality, spirituality and social issues. Above all, my aspiration is to manifest enlightened compassion in a pragmatic way. Though I may fail on numerous occasions, I make my best effort to "pull the ox back on the path" over and over, moment after moment.
Interview by Nick Shindo Street.