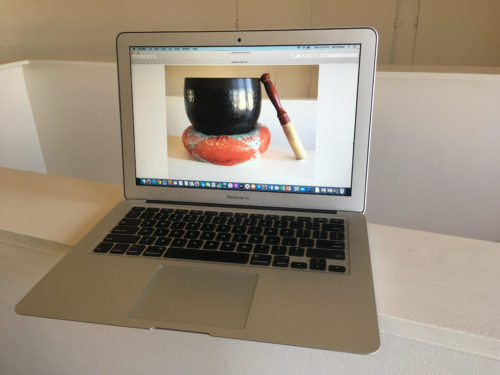 During this challenging time of uncertainty and social isolation, the benefits of Zen meditation are vividly apparent. We have discovered that the strength and energy that come from practicing with a group are as palpable during virtual meditation sessions as they are "in real life." The Hazy Moon is pleased to offer several opportunities for virtual practice via Zoom, in English and Spanish.
We ask newcomers to our practice and lineage to sign up for our beginning meditation instruction class, which is conducted on the last Saturday of each month via Zoom. The class begins at 11am (Pacific Time) and lasts about an hour and a half. Instruction is available in either English or Spanish. Please indicate your preferred language of instruction when you contact the instructor, Sherri Ento MacLelland, Sensei. You can reach Ento via store@hazymoon.com.
Those who are already familiar with our lineage and the form of our practice are invited to participate in group meditation opportunities via Zoom. 
Karen Maezen Miller, Roshi, leads weekday meditation sessions Monday through Friday, from 5:00pm to 6:15pm (Pacific Time). These group meditations, conducted via Zoom, include two half-hour periods of zazen, a short break between the two periods and a brief chanting service (the Four Vows in English) at the conclusion of the meditation. A one-day online retreat is offered one Sunday a month from 7:00am to noon (Pacific Time). The retreat includes zazen, kinhin (walking meditation), service and a Dharma talk (in English). For more information, contact Maezen via maezen@dewdropsangha.com.
Our sister temple in Mexico, the Black Scorpion Zen Center, offers a virtual one-day retreat every month, led by Claudia Hosso Politi, Roshi. The retreat takes place on a Sunday from 9:00am to 2:00pm (local time in Mexico City). It includes three half-hour zazen periods and service, a small break, then two more zazen periods and a talk (in Spanish). The Black Scorpion also offers once-a-week meditation sessions via Zoom that include two half-hour periods of zazen on Wednesday mornings at 6:30am (local time in Mexico City). If you are interested in participating in any of these Spanish-language practice opportunities, please contact Hosso via tenocotitlan@gmail.com.
We encourage and support you in your practice.