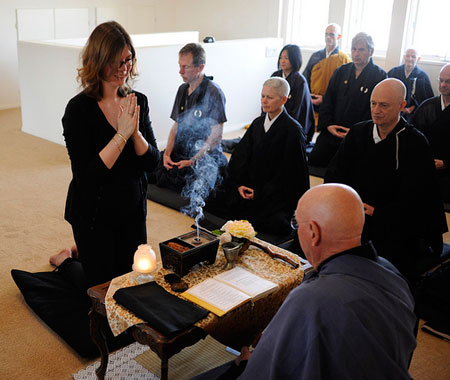 The moment I put my shoes by the front door, I knew I had come home. When I stepped into the Hazy Moon for the first time, I took a leap of faith I had never before thought possible. Instead of the strong person who I assumed people expected me to be, I entered the Hazy Moon just as myself: the constantly worried mother of my two little boys, and the deeply exhausted caretaker of my seriously ill husband. I looked around and saw a couch to rest on, a table to eat at and a huge fridge filled with food. There were smiling faces and outstretched hands. This was the refuge I had been longing for, the home that was going to save me. At that moment I hadn't even walked upstairs to the zendo yet.
Almost two years earlier, on the night after my life as I knew it had ended, I wrote to Karen Maezen Miller. It was January 2011, my husband Kenji had been diagnosed with acute lymphoblastic leukemia a couple of hours ago, and I was at a loss. I feared his death and I didn't want him to die. I wasn't ready to raise our boys–one a year old, the other almost three–all by myself, and I didn't think I could live without my husband. He was only 36 and his life–our life–wasn't supposed to end this way.
I didn't know Maezen at all, apart from her books and a couple of emails I had sent her to express my gratitude for her writings. Somehow I felt the need to reach out to her in particular, to someone who could help me find steady ground beneath my feet again. Yes, she lived on the other side of the world, but distance wasn't relevant at that point.
Maezen responded within 20 minutes, and ever since that night she has been watching over me. I cried, I ranted, I freaked out, and of course she was her true calm self, no matter what I threw at her. She let me drift freely for a few months, then she gave me an ultimatum: start taking anti-depressants or start practicing. Nobody had kicked my butt so hard before, but if anyone could tell me what to do, it was without any doubt Maezen. And to my surprise it was such an easy choice: the very same day I found myself sitting and counting my breath.
I counted my breath at the hospital, sitting at Kenji's bedside. After his intense chemo treatment, he underwent a risky stem cell transplantation and had to stay hospitalized for months due to severe complications. I counted my breath at home, sitting in front of my Buddha statue. Life was unkind, death was constantly lurking, and my entire family was in danger. At least, that was how I experienced it.
The reality was different. Regardless the unusual circumstances, my boys grew from babies to happy toddlers, and I fulfilled my role as an almost-single-parent pretty well. Kenji overcame hurdle after hurdle and didn't die. (As I'm writing it's very hard to ignore the little voice in my head that says "not yet, not yet." Because his life is still hanging from a thin thread, and nobody knows how much more his body can endure.) Seasons changed, and we slowly got used to handling chronic illness. We were forced to let go of our expectations and surrender to the present moment–we lived day by day and didn't dare make plans for tomorrow.
One day during meditation the thought popped up that I needed to visit Maezen. Travel overseas, alone, and abandon my sick husband and the boys? My intention grew stronger and stronger, and I felt it was something I could no longer ignore. Maezen informed me that I had better attend a sesshin, or visiting her practice home would be beside the point. So just as easily as I had begun my practice, I bought a plane ticket from Amsterdam to Los Angeles and was ready to start my first sesshin in the fall of 2012.
Maezen had been holding my hand for a long time and although she could tell me to take my shoes off and where to put them, the moment I arrived at the Hazy Moon I realized the true meaning of starting over –of atonement. I could walk on my own two feet again. All of that happened on the Hazy Moon's threshold: Maezen had brought me home, and I am forever indebted to her because of that.
During that sesshin I sat with Mujo on my left and Shindo on my right. I stared at the white wall, but kept peeking from the corners of my eyes at their black robes on either side of me. By checking their presence, I enlisted them to lift me up and unknowingly hold me very close. The sangha made the time on the zafu much more bearable than I had imagined possible. Of course, I dropped some rice on the carpet during oriyoki and ended up with a wet chant sheet when I spilled a little water while I was rinsing my bowl. It wasn't so much the sitting, however, that impacted my life drastically. It was meeting Nyogen Roshi.
Maezen urged me to meet her teacher and taught me how to ring the dokusan bell, do the bows and the formal presentation of my practice. But that was as far as she could help me out; inside the dokusan room I could only rely on myself. When I had to state my name and my practice to Roshi for the first time, I could barely make a sound. Even looking at him was difficult. His presence was so powerful that even before he started speaking to me, I knew I had found my teacher. I was too shy to tell him, but my heart instantly opened up to him.
After the sesshin, I thought I would not be able to return to the Hazy Moon any time soon. Roshi assured me that there would always be a bed and a meal when I needed it, and with that comforting thought I closed the front door behind me.
Back in the Netherlands I contacted several Zen centers, but it never clicked the way it did in Los Angeles. I planned three times to sit a sesshin at a Dutch center–so at least I would not have to practice alone–and three times I had to cancel. Kenji's hospitalizations kept messing up my plans. Then a friend of mine died of cancer. At her memorial service I noticed a profound change in my attitude toward death. I was no longer terribly afraid of death, but could simply be present without being overcome with fear.
In the dokusan room Roshi had told me over and over how transformations could take place. Sitting on that church bench at my friend's funeral, with soft tears quietly rolling down my face, I sensed the transformation that had occurred. The next day I wrote to Roshi, asking him if I could take Jukai at Hazy Moon. All the time I had been looking for a place to practice and a teacher to guide me, and I realized I had found both of those things during my trip to California.
My Jukai started at home, with the arrival of a U.S. Postal Service box: the Rakusu sewing kit. In a household where I rarely have a minute for myself, I managed to carve out several hours a day, for weeks on end, to sew my own Rakusu. Actually the boys and Kenji let me work on it as much as I needed, which was their precious contribution to this next step in my practice. Shinnyo helped me out with pictures of her Rakusu, the most nearby Hazy Moon example since she lives in Germany,  and Gendo offered his advice despite the time difference. Two days before I was supposed to return to Los Angeles for the ceremony, Kenji was suddenly hospitalized again. I faced the choice of a lifetime: stay by my husband's side or follow my own path. I asked Roshi for advice, and he explained that we can't change another person's karma. That, and the fact that Kenji's doctor told me he was in good hands, convinced me to go ahead with my trip as planned. The morning I started sitting at Hazy Moon, Kenji was discharged from the hospital in Amsterdam. Both sides of the world were intrinsically connected.
This May I entered Hazy Moon as Roos and left as Ben Ming. I'm eternally grateful for having experienced the fact that Dharma is indeed thicker than blood, to borrow Roshi's words. I hope to be back soon at my home away from home!