Although chronologically I'm in the early winter of my life and older than most students at the Hazy Moon, five years of practice here is helping to shift my outlook. I know I don't want to grow old simply chasing pleasures while waiting for the end.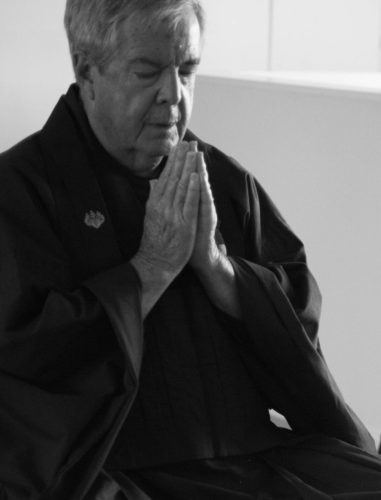 My life before I arrived at the Hazy Moon didn't look too bad. As a kid, I drank the all-American Kool-Aid and believed what I'd been told by my parents: there would be a perfectly straight-line life, with guide markers along the way, until I reached the last one. Just connect the socially acceptable dots, son. Grow up. Attend college. Start a career and climb the ladder. Get married, give us grandkids, and retire to the good life.
On my first visit to the Hazy Moon from my home in Florida, I got out of a cab, walked up the front path, and was greeted warmly by Nyogen Roshi. The instructions were straightforward and pleasant. Childhood admonitions came to mind: Be a good boy. Follow the rules. Don't embarrass the family. Sit your way to enlightenment.
But how did I get here? I'm a guy from a blue-collar row house who couldn't stop reading. My spiritual views had been flavored with exposure to writers like Thomas Merton, Dorothy Day, and the brothers Daniel and Philip Berrigan. Along came other writers and poets: May Sarton, Albert Camus, John Paul Sartre, Nikki Giovanni, and Father John O'Donohue.
Then I stumbled across the words of Maezumi Roshi: "Do not deceive yourself, do not make excuses for yourself, and take responsibility for yourself." That quote scrambled my brain and pushed me toward a new path. At first, I didn't believe it. But my stage of life allows me to spend a month or more in formal practice here each time I come, enough time to prove the truth to myself.
Clarity shows up in simple everyday ways. However I label these insights, they've shown me that I can live a better and more sane life. Sitting has taught me to accept physical or emotional changes as mere "infomercials." With greater awareness I've learned that I can get by without planning, seeking, or defending who I am. Perennial dissatisfaction seems to be fading to a more manageable level, some days approaching gratitude and peace of mind. The fact that there's no ambition necessary and nothing to achieve starts to make sense. And it's a relief.
Practicing within a sangha is an up close and personal meeting with myself. Sometimes I don't like what I see. I might show up as sad, pathetic, competitive, jealous, and controlling. Sometimes I recognize that I want to be a better student than the others, Roshi's favorite. Other times I'm terrified to reveal myself to him. Overcoming toxic masculinity, barriers, and defenses is hard work. But I'll never be able to communicate meaningfully to others if I can't see myself first.
I have, in fact, experienced periods where I am able to just show up, sit down and count my breath. And there are small victories. Most of the time now I'm not waiting for the bell to sound.
Still, each time I get to the Hazy Moon, I ask myself—almost on schedule —Why am I here, using up some of my short time on the planet? And yet I stay and stay and return again and again.
I have a partner who wholeheartedly supports my practice, removing another excuse. During Summer Ango, when I can essentially be alone for 40 or more days, I am able to surrender to not knowing. I can stop seeking insights. Confusion, misunderstandings, and grumpiness no longer stop me in my tracks. My mantra these days is: Get on with it, Kyoden.
I glimpse the possibility that an ordinary life can be an extraordinary life. And much to my surprise, I'm okay with that.