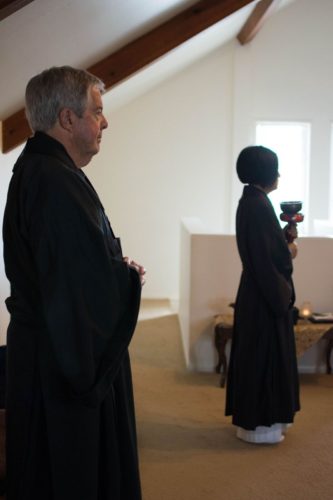 "To be a saint means to be myself." —Thomas Merton
I am a Hazy Moon student living on the east coast. Along with daily practice at home, I attend two extended training periods a year with our Los Angeles sangha. Traveling to the Hazy Moon, I'm on pilgrimage to a place far away from everything familiar—a place where I can try again and again to let go and simply sit. It's a place for personal investigation and also ceremony. Every period of kinhin serves as a ten-minute pilgrimage as I practice the mindfulness present beneath my feet. In short, every activity is practice.
The author Ta-Nehisi Coates once said, "Talent is important, but perseverance and a high threshold for humiliation is more important." This quote captures my outlook and experience of Zen (although in my case there's very little talent and a natural appetite for humiliation). I've been sitting retreats long enough to have many opportunities to nurture the acquisition of humility.
My friends at Hazy Moon insist that I get over myself. They continuously forget my errors and overlook my cluelessness. They forgive me when I stumble through service and render it unrecognizable. This forgiveness is part of the magic of sangha. It helps me take a breath and head back into the zendo to sit again. It renews my determination not to waste time. Knowing my missteps will be taken in stride allows me to go up to the zendo early, settle in, tune out anything going on around me and let my self-doubt dissolve.
The more I sit, the more I realize that I really don't know a lot. I have spent a lifetime building a personal story that I think will please the outside world, but I can't bring that curated character into the sangha. This practice requires courage. There are many times during retreat that I ask myself, "What am I doing here?" It is difficult to set aside my past experiences, academic knowledge, and life stories to approach my practice with humility. We live in a culture where humility is not seen as an asset; on the cushion, it's essential. The humility that comes with practice has caused me, rather begrudgingly, to discard any notion that I'm the director and life is my well-scripted play.
Aging also fosters humility. As I've gotten older, everyday activities have gotten physically harder to do. There's a fear that comes along with moving slower and having less strength; some things just don't get done. Accepting age has allowed me to relax and get used to some hard facts, such as no longer being at the center of my family's universe. This growing acceptance has also begun to take away any excuses not to practice daily.
The world is insanely busy; busyness is the norm. Some days it's difficult to shake off this standard and nourish silence instead—a silence that can be daunting. In silence, there's nowhere to hide. But I no longer have the luxury of coasting along, wasting time and sabotaging my practice. I've come to the point where I think it's arrogant to believe that when I go to bed at night, I will wake up the next morning.
At the Hazy Moon, my fellow sangha members and I do our part to ensure that silence never goes extinct. I now recognize that there really is only this very moment to live my life. Dropping thoughts and counting my breath, I learn the contours of my heart.