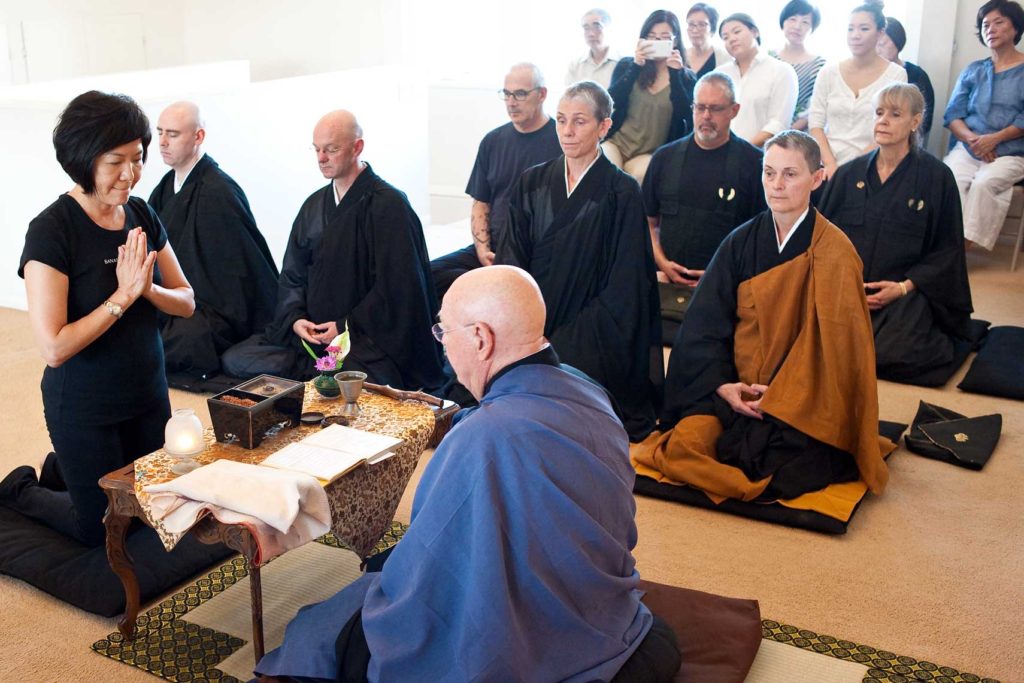 The precepts are central to all Buddhist traditions. In our Japanese lineage the precept-taking ceremony is called Jukai. In taking the precepts you formally become a Buddhist and a bond is developed between student and teacher.
Those who wish to take Jukai begin by sewing or purchasing a Rakusu. The Rakusu is a rectangle of cloth composed of strips, which hangs on a loop around the neck which emerged from the tradition set by the Buddha's followers of sewing their own robes.
Once the Rakusu is complete it is given to the teacher who selects a dharma name for the precept-taker. The dharma name is a recognition of your true nature and of beginning a new life lived in oneness with the precepts.
Jukai literally means to receive the precepts, passed down from teacher to student. The student vows publicly to uphold the precepts and receives a lineage chart. A red line runs through the lineage and the student's name and circles back to form a whole, connecting the student and the Buddha.
To accept and observe the precepts is an expression of gratitude to the dharma and its teachers but it is also sixteen vows to yourself.
The Sixteen Bodhisattva Precepts:
Be one with the Buddha.
Be one with the Dharma.
Be one with the sangha.
The Three Pure Precepts:
Do not commit evil.
Do good.
Do good for others.
The Ten Grave Precepts:
Do not kill.
Do not steal.
Do not be greedy.
Do not tell a lie.
Do not be ignorant.
Do not talk about others' faults.
Do not elevate yourself and blame others.
Do not be stingy.
Do not get angry.
Do not speak ill of the three treasures.
Visit our Sangha News page for images from recent Jukai ceremonies and other events. And check our schedule page regularly to find out about retreats and weekly sitting times.