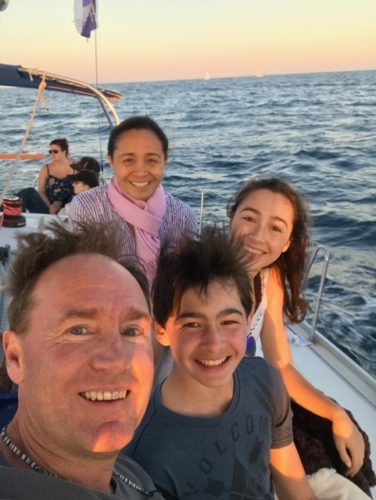 I was looking for a teacher. My busy life as a mother, wife, and physician was becoming more chaotic. Meditation had intrigued me ever since I'd had a lesson at a spa. For the first time, my mind had felt relaxed—quiet yet alert. After searching local meditation groups and Zen centers, I found the Hazy Moon. Something powerful struck me while attending the Beginner's Mind one-day retreat. I couldn't put my finger on it, but I was compelled to see where it would take me. And they had an accessible teacher!
I immediately began putting up obstacles that I thought would prevent me from coming back. First was the physical distance. My home is approximately 100 miles away in Santa Barbara. How could I manage going to LA every Saturday for services? Second was the time I expected it would require. Surely being a Zen student would mean studying koans and sutras, as well as sitting in long retreats. How would my family get along without me? My husband is also a physician, and we had to coordinate our schedules just to take an afternoon off or attend a professional meeting. Did I really need to add one more activity to my life? Last, my state of health was changing and I started experiencing panic attacks, especially while driving or riding in a car. How would I survive a long drive and crazy LA traffic?
Somehow, I eventually made it to a weekend sesshin. There, I talked with Nyogen Roshi about my fears. His answers were simple and encouraging:
1. The practice is about you. It isn't an institution or religion.
2. When sitting, relax and release.
3. Come when feasible. You can practice at home.
4. Take good care of yourself.
This was not how I had visualized Zen practice. I'd read about the strict form and rigor. When I told a student from another group that I was interested in sitting a sesshin, he laughed at me, saying I wasn't ready. He likened sitting a sesshin to running a marathon and said that I needed to train first by sitting longer periods for a year. At a different center I was told I could not become a member unless I was a vegan. Naturally, I thought all Zen groups had the same rules—much like being a member of a church. I had assumed that attending one center was going to be the same as attending another, just like being a Catholic attending mass. Obviously, this was different.
I took Roshi's seemingly simple teachings and used them like a mantra, repeating them to myself, especially with regard to my daily decisions. They burrowed, like seeds, into my musings. In time, a routine developed. I started sitting every morning as soon as I woke up. After sitting, I would listen to one of Nyogen Roshi's talks. I looked at our family schedule a month in advance and would plan a Saturday to drive down to service. When a sesshin was scheduled, I figured out with my family if I could attend and, if so, I went. I started taking better care of myself, allowing time to rest, eating nourishing meals, and reducing unnecessary activities. Whenever a thought or doubt would rise up, I would tell myself to release it. I saw how hard I was on myself, and worked to be softer.
I can tell you that this practice works! Whatever I thought were obstacles slowly vanished, to the point that I realized I was making them up. It feels like a physical act to release a thought or to repeat an affirmation. It literally sweeps my mind clean! When my mind quiets down, it naturally creates a safe haven for me and my family. My worrying and nagging has decreased. I can do the dishes and housework without feeling that it is beneath me. Every action feels a bit easier, and sometimes joyful!
I recently saw how my practice spreads to others when we took a family vacation. Normally, our drive to the LA airport would cause stress for my husband and me, with both us afraid that we might forget something, then worrying about traffic and getting there on time. I noticed that when I tried to placate my husband it actually inflamed his anxieties. I vowed to shut up, sit there and do nothing other than count my breath. I was able to enjoy the ride. When we were sitting in the plane, my husband said that after thinking out each possible disaster scenario as he was driving us, he concluded that there wasn't going to be anything so terrible!
Similarly, my own drives down to the Hazy Moon used to be filled with planning and dread. What do I need to pack, and how can I keep myself calm? This took time but I gradually improved with each trip. Now the relief starts as soon as I know I am going. Packing just happens. Occasionally, I will feel a moment of lightheadedness, which would normally cause me to overanalyze and worry. Now I know that I alone am responsible for giving in to my fear. I am responsible for giving it power. I am responsible for how I feel.
I took Jukai last fall because I wanted to formally acknowledge my bond with Roshi and the Sangha. I now see that this is also an acknowledgment that I have accepted my own life. I'm finally feeling the relief of being in my life as it is, and enjoying it.