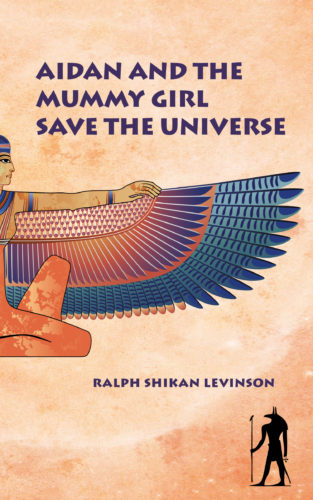 I began writing as part of my practice after Robert Lanza, M.D., the author of  Biocentrism and Beyond Biocentrism, read some of my biomedical articles. He thought I might want to write a grand unified theory (GUT) of Zen. Feeling unqualified, I rejected the idea. However, Nyogen Roshi encouraged me to write about the intersection of Zen, science, and Mind. That effort became my website Zengut.
Later, my son suggested that I write a book about Zen for kids. Once again I rejected the suggestion. Why bother kids with weird Zen stories? At best they would seem silly, at worst, boring.
On the other hand, I thought it might be fun to write a fantasy adventure story for older kids, to push myself beyond my intellectual comfort zone. To write a book the 10-year-old me might have enjoyed, and still would!
My first novel, Aidan and the Dragon Girl Save the World, was borne of my love of history and an interest in how dragons are viewed in the east—not as fire-breathing reptiles but as shape-shifting water spirits and protectors of the Dharma. The protagonist is an 11-year-old boy whose grandparents are dream detectives, solving mysteries through dream travel.
Now I've written a second Aidan novel, inspired by my interest in early Buddhism and the cosmology of ancient Egypt. It's called Aidan and the Mummy Girl Save the Universe.
Although I wanted this book to be funny, I soon saw it wasn't evolving that way. This is how writing fiction is a spiritual practice for me. It comes from a deeper place than my non-fiction writing—a place full of surprises and twists, with a life of its own.
In this novel, Emperor Wu (China's only woman Emperor) needs Aidan's help again. He has to muster his courage and compassion to save the universe from the forces of chaos. This book is dedicated to those who try not to get trapped by their stories, a difficult practice indeed. 
In the following excerpt, Aidan is concerned that Emperor Wu may have imprisoned his grandmother, Jane Prosperowitz, the dream detective. The character Wise-and-Able is based on the Sixth Patriarch Hui Neng. Butterfly is Aidan's Dharma name in old China.
***
Aidan fell asleep and was face to face with Emperor Wu.
She was sitting on her throne and did not look surprised to see him. They were alone. There weren't even any guards.
Aidan didn't wait for Emperor Wu to speak.
"Where's my grandmother? I want to see her," he demanded.
"To speak in my presence without my permission is death," Emperor Wu stated with an even tone.
"With or without your permission, I'm talking and you're listening. If you want me to tell you about the golden feather, I want my grandmother."
Emperor Wu's eyes flared. "I warned you, and I won't warn you again. I am the Divine Mother of China. Millions live and die by what I do. They also love their grandmothers. They have hopes and dreams and cares. Your grandmother is tough. Tougher, I think, than you will ever be. She does not indulge in self-pity. Now face your fears and get back to work."
"You know I'm not supposed to tell you things from my time that you don't know here in your time—" Aidan said.
Emperor Wu waved her arm. "Then don't."
"Your superstition is dumb. You're wrong. We have science. We don't need omens. We know why there are blood moons and storms and famines and infections."
"And there is no superstition or foolish and dangerous beliefs where you come from? You control the storms? Your doctors heal all sickness? Your leaders bring prosperity, peace and justice to all? Do they even try?" Emperor Wu snorted.
Aidan thought about the things his grandfather often raved about, how people couldn't seem to fix even simple problems because they refused to see past their greed, their narrow views and fears, their hate and, yes, superstition.
Emperor Wu pointed at Aidan, her long finger shaking with anger.
"I seek the Mandate of Heaven. I search for balance and harmony, justice, compassion in action. I challenge you: help me to do it better or leave and be glad you and your grandmother still have your heads. As unpleasant as removing your heads would be to me, I am the Divine Mother Emperor, the Tiger and the Dragon. Either help me or get out of the way."
Aidan wouldn't have been a bit surprised if she turned into a tiger and pounced on him and tore him apart and ate him for a snack, or became a fire-breathing dragon and scorched him to a crisp.
Aidan thought he should be scared, but he was still angry. Even so, he had to admit she wasn't totally wrong. He bowed, and then stood up.
Emperor Wu coldly nodded her acceptance of his bow and dismissed him with a sharp flick of her wrist.
Aidan could have let it be, but he couldn't resist getting in some last words.
"I'll help you. But before I go, I'll say it again: don't mess with my grandmother. Threaten me all you like. You can't blackmail me. Any suffering you cause is on you, not me. If you want my help, you better back off. I got a golden feather and a mummy girl to take care of."
Aidan turned and stomped out of the room.
Aidan's dream shifted to a small Chinese village. He was walking with the teacher of the Way of Wisdom, Wise-and-Able.
They passed some young children playing. They were dirty, with snot-caked faces. One had an eye that looked grey and lifeless. They wore clothing that was little more than torn, filthy rags. All the same, they laughed and ran and fell and cried, and seemed to be having a great time, like kids everywhere in every time do if you let them.
The grown-ups were working hard in the nearby rice paddies. One called for water and the oldest boy in the group, who was maybe seven, brought him a bucket.
"I understand that you stood up to Emperor Wu," Wise-and-Able said while watching the children play.
"These kids, the farmers, will I hurt them if I blow it? Will there be a horrible famine? Is that why I'm here with you?" Aidan asked.
"You fear for them, or you worry that you will feel bad?" Wise-and-Able asked.
"I don't know. Both. I'm a kid. This is a lot for a kid. I'm not having fun. I'd rather be playing like them."
"The world is often a lot for a kid, Butterfly. It isn't always fun. You must act from the quiet place inside."
"Then I really messed up with Emperor Wu, 'cause I wasn't exactly quiet."
"The quiet place isn't about the sounds you make. It's where you don't make extra noise in your head or anywhere else. You don't add what doesn't need to be added. But what you do from that quiet place can be very loud sometimes. The emperor won't get what she wants by threatening you and Jane Prosperowitz. Maybe she needed to hear that from you, loud and clear."
"So, what do I do now?"
"Whether a child bringing water to a farmer, or the emperor trying to protect her empire from dangers that she doesn't quite understand, it doesn't matter. Do what is in front of you to do. But don't lose your head about it."
Wise-and Able mimed an executioner slicing a sword at Aidan's neck, and then burst out laughing.
"Not funny! Too soon!" Aidan yelped as he jumped back from the imaginary sword.
"You are very serious, very responsible. Good. But it was funny. You can laugh sometimes. That's good, too."