"You won't want to talk to me," a spry, 84-year-old man I'll call Jack announced with a smirk. "I'm not so religious these days."
"That's fine," I assured him, meeting his gaze. "I'm not, either."
Wide-eyed, he wondered, "Well, what variety of chaplain are you?"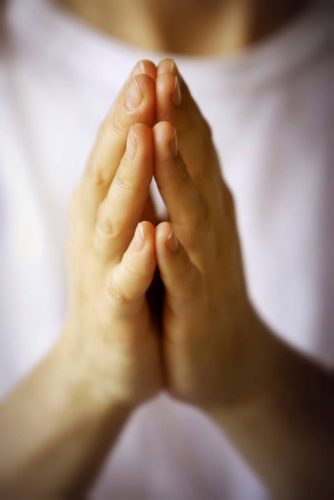 In this Midwestern city, the word chaplain is generally assumed to mean a Christian pastor. Hearing that I practice Zen Buddhism, Jack chuckled and invited me to sit with him.
In the hospital where I'm a chaplain intern and in the hospice where I volunteer, patients rarely ask about my faith. When they do, I take care not to raise any walls between us. I don't think of myself as a Buddhist chaplain, or any other kind. Rather, my experience of chaplaincy is meeting people in a deeper place than religion.
It wasn't always that way. When I started chaplaincy training a year and a half ago, I walked around wrapped in walls—walls built by my need to be of service, my belief in my deficiency, and my meager familiarity with Christianity. I was terrified, frankly, that people would ask me to pray with them. With practice, I set all that down, aspiring to enter rooms empty-handed. As long as I stay with my breathing, I'm finding, the rest takes care of itself.
Jack had a lot on his mind that morning while awaiting test results. As he could barely hear, I barely spoke. In the midst of reciting a litany of losses, he paused, wanting to know if I'd ever faced the death of someone I loved. I nodded yes and touched lightly on memories: my newborn son, Cedar, struggling to live; my old friend Joe; and my dad, each accepting their death with clear eyes.
"You know then: it's not theoretical," he noted. And then, after sitting quietly awhile, he confided, "I can't believe the Bible, anymore. But to be an atheist would be like the Ancient Mariner: 'Alone, all, all, alone on a whole, wide sea.' I'm lost, you see, theologically lost."
In the past, I would have clenched in fear at his words, thinking I needed to know how to help. Following my breath, I simply stayed present with him. When I asked what being lost was like for him, his blue eyes brightened.
"You're right! It's not a problem," he said, then added, "I like Buddhism. It embraces my fumbling in darkness." I didn't argue.
Before I left, he quoted more poems and began composing one of his own. He held my hand, saying, "I'm so glad Heaven sent me a Buddhist chaplain today." I looked in his eyes and smiled, because I loved him. And I smiled because I saw something: to be a Buddhist chaplain is to do nothing but maintain my practice in the presence of others.
In the weeks since that visit with Jack, it's been clear that nothing is lacking. I keep finding myself with patients and families who obviously have no need for the words and knowledge I used to scramble to find. Some of them were non-verbal patients, a few were actively dying, and others were too short of breath or in too much pain to speak. Still others sat in acute trauma in the ER, the ICU, or the NICU, wanting to be heard or wanting to be quiet, yet not alone. I keep trusting that if they've needed anything from me, it's just presence.
When I sit quietly breathing with patients and their loved ones, I'm free of the shyness and self-doubt that used to keep me from really seeing people. When I move my hands to rest on a person in pain, my hands just move. When I'm asked to pray, prayer just comes.
One long afternoon in the ER, sitting with and easily loving a distraught man whose fundamentalist religion would have once offended me, I saw that Jack was right: in the darkness, having no idea what I should do, there's really no problem.