Reflections from the Sensei and Sangha of the Black Scorpion Temple on its 10th anniversary.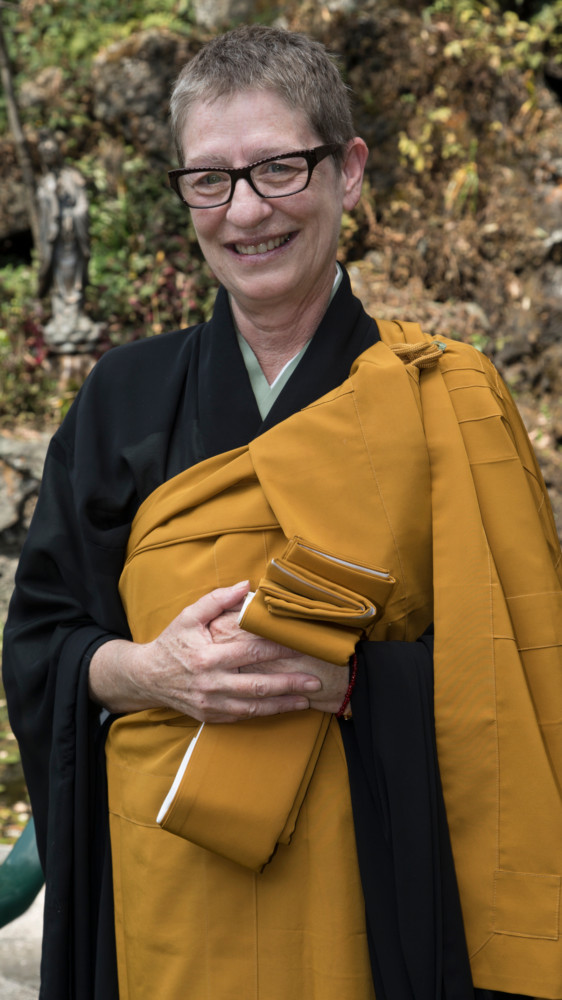 Already 10 years have passed since the Eye-Opening Ceremony of the Black Scorpion Temple in Tepotzlan, Mexico.
Here in Mexico, we call the temple TEN for its acronym in Spanish (Templo del Escorpión Negro). In Spanish, the word "ten" means "take it!" It's what one would say in the ordinary act of giving something away, or letting go.
This resonates particularly with my experience of the Scorpion, a place that has given itself in so many ways: as land my daughter will inherit, as a small holiday home and artist's community, and as a retreat center for the Hazy Moon. I never imagined it would become a functioning Zen center with monthly retreats and its own beautiful, solid Sangha.
The aspiration of keeping Nyogen Roshi´s teachings and Maezumi Roshi´s legacy alive in Mexico may be coming true and, in a certain way, in spite of me.
As the teacher in residence of TEN I have stumbled with all my ideas and expectations of how things should be done and of what I should be. Over the years, I have learned to let go of control and to trust. I am always surprised by how lucky and grateful I feel when I get out of the way.
More and more I realize what my teacher has been telling me from the beginning: "It´s all about your practice." Really, Buddha Dharma takes care of itself.
From the Sangha
Crossing the gate to peace

I've been visiting TEN for over eight months now, and I still find it hard to believe that it's just 90 minutes away from the Mexico City crowds. My memories of urban chaos begin to dissolve as soon as I cross its gates and my mind begins to find peace between its walls.
It wasn't always this way. The first time I visited the Temple I felt overwhelmed by the sense that everyone knew what to do and where to be—except me. That was the issue I spoke about with Hosso Sensei in our first interview. "Don't worry much about the protocol," she said. "Its main purpose is to make sure you are here, right now, present."  Those words allowed me to realize that I have everything within me to figure out my own place, by myself.
These past months, I've recognized that same feeling on the faces of newcomers, and I try to reach out to them to ease this discomfort. I do this by not discussing much about what's coming in the next few hours, but simply describing the relevance of the task at hand.  TEN is not only a place we treasure dearly, but also an individual journey of discovery for those who wish to explore it. One breath, one day, and one visit at a time. — Ramón Olivas
Getting rid of clouds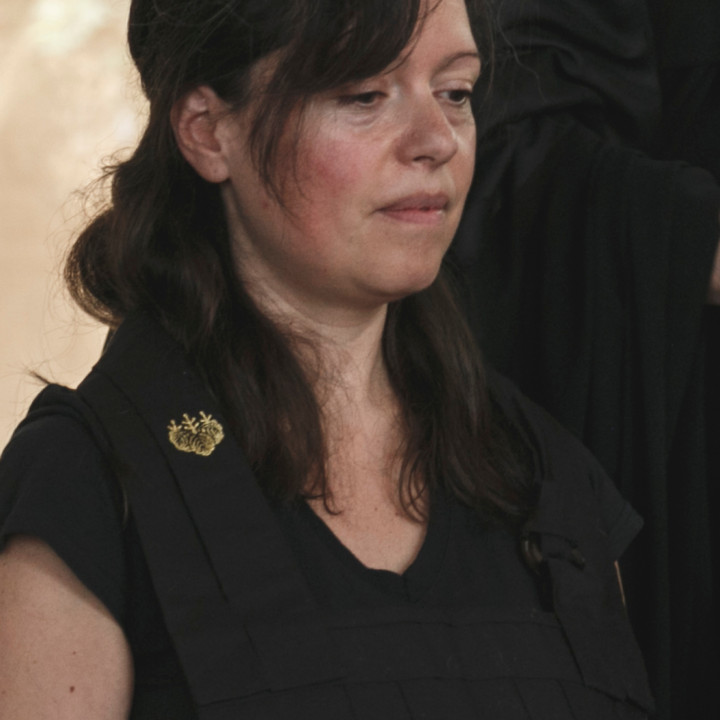 I have been coming to the Black Scorpion Temple for nearly three years. It is a magical place surrounded by trees and hills. Every time I come here, I get rid of my illusions and negative feelings.
For example, last weekend I arrived stressed and angry. After three days of practice, I began to feel relaxed and peaceful. I could breathe again without a heavy burden in my chest. I´ve had this kind of experience many other times before. The peacefulness of the Temple and the practice give me the opportunity to change the way I feel, and get rid of the clouds that do not let me see clearly what is in front of me. For these reasons, I am lucky to be part of the TEN, since I always receive beautiful gifts during and after the practice. — Giancarla Shoshin Calia
The reflection of a clearer mind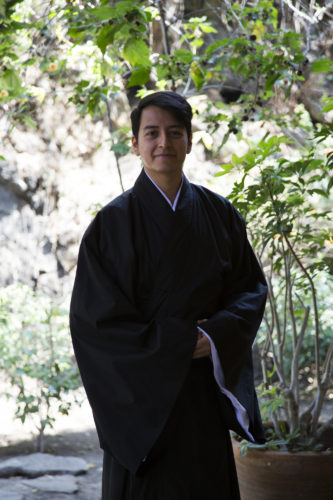 Practice has changed my life in many ways. My work as a graphic designer has refined; I am able to be more assertive around coworkers and relatives; and I have adopted stir-fry dishes as a regular meal—following recipes free of onion or garlic to calm the spirit. I have also uncluttered my spaces as a reflection of a clearer mind.
I could never have thought that sitting in front of a wall would have such an impact on my life. In the words of the Buddha: How wondrous, how wondrous! — Fernando Enso Arispe
Just the way I am
For me, the TEN represents the "touchable" shape of Sangha, Dharma and Zazen. Every time I come—or even think about attending sesshin—I am reminded to be present, become aware of the space between thoughts, and just be here and nothing else. To breathe, to be alive with everything, and to become nothing at all.
The TEN is a reminder of the practice. It is home, Roshi's teachings, and Hosso's talks. It is a place where I have been pushing my practice for 7 years. It is peace, the sounds of everyday and the mirror where I have the opportunity to see myself just the way I am when I give myself the time to share with the Sangha, with Sensei, with the now. — Paola Karuna Aguilar
My refuge, my Sangha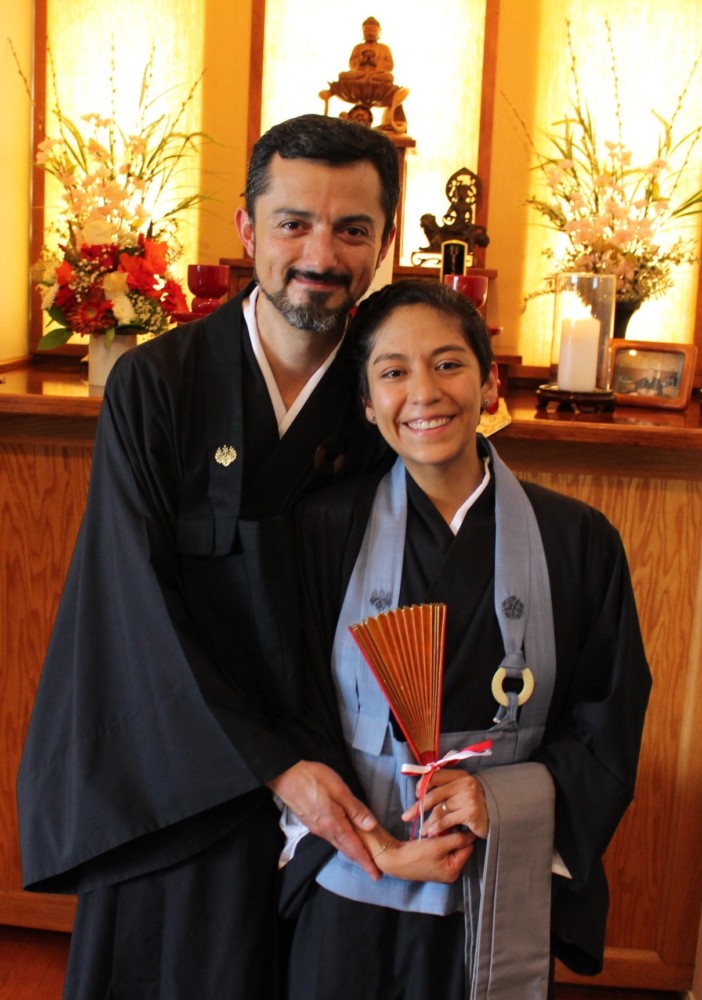 When I began investigating Buddhism, I felt particularly attracted to Zen. A very close friend of mine told me his aunt was a Zen priest, and this is how I met Hosso Sensei. My connection with her was immediate. One month later I was on my way to my first sesshin.
I had no idea what awaited me there. I didn´t even read the sesshin booklet Hosso Sensei had given me. On the subway to the bus station, I opened the booklet and discovered we were advised to wear black clothes. My bag was full of white garments!
Finally, I arrived at the Black Scorpion Temple. The tenzo for sesshin was Ento, a Hazy Moon priest, who invited me to have breakfast with the meal servers. I didn´t know the Black Scorpion had been inaugurated only one year before.
In that sesshin, I met the Hazy Moon Sangha and Nyogen Roshi. I didn´t imagine then that the TEN would be my refuge, my Sangha. I am happy to be part of the Temple´s evolution and to know it has also been my own. —Ari Sanmai Robles
Room to stay
My first visit to the Black Scorpion Temple was nine years ago to pick up Sanmai after she had attended sesshin. Exactly one year later, I returned to the temple—this time intending just to drop off Sanmai for sesshin. I hadn't registered to attend, and the retreat was fully booked.
To my surprise, Hosso Sensei decided there was room for me to stay if I wanted to. This is how I began my practice. Now, with Sanmai as my practice-mate and life-mate, TEN is truly something more than a home for me. — Gerardo Bendo Romo
We bloom together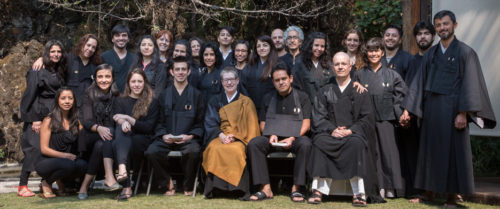 The Black Scorpion temple keeps opening possibilities for me to make contact. What a wonderful place to try to see, to hear, and to be . . . with the sun, the leaves, and the sound of the waterfall.
Sometimes my mind is very busy. During a Saturday service during sesshin, for example, a long and rich morning service, I am busy thinking: Who will lead the chanting? It's not an easy chant; the Heart Sutra is in Japanese. Who will ring the bells? And during oryoki, with a full zendo of people eating at the same pace with drums, steps, and chants, my mind fills: Will the servers drop anything? Will they appear on time to bring the tea for cleaning the bowls?
In this place, the rocks and the cats and the dogs know that I can stumble, fall, cry, burn, go blind, or fly. Taking the same stairs every morning can either be a walk of sorrow, a march of war, or a path of joy.
Each time I return to the Scorpion, I am so grateful to come—over and over—to find something recovered and something freshly found. So grateful to Hosso Sensei: my sister, mirror, tender spot, cliff, explosion, and embrace. She planted the seed Nyogen Roshi has watered for so many years. We bloom together. I am so grateful to my Sangha, never the same and yet always the same. And how I love the stones and their volcanic sharpness—for everything they hold. — Luis Chudo Escobar